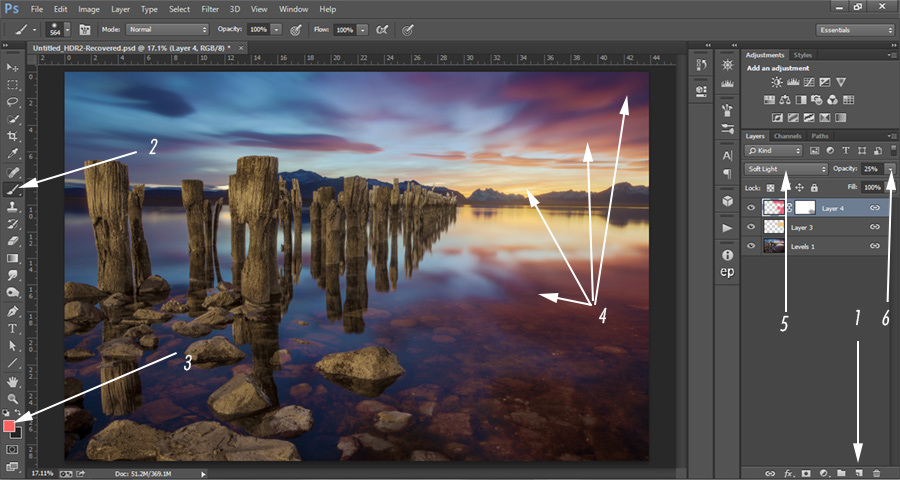 Steps
(1) Create new layer. To create a new layer, simply go to the button left of the trash can in the layers panel and click on it.
(2) Select Paintbrush. With this chosen, change the opacity to 100%, a hardness of 0 so there's a smooth transition, and create a medium sized brush.
(3) Click on foreground color. Your foreground color is at the bottom of the toolbar to the left. When you click on it a dialogue will appear. Place your cursor over the sunset area where there are golden/orange colors. You will see that the cursor has become an eyedropper tool. Left-click on the golden/orange color to select this as your foreground color.
(4) Paint across sunset. Take your brush and paint across the sunset, trying not to affect other areas. It's okay if you go across the horizon on this type of image. But we should avoid the sticks to the left.
(5 & 6) Change blend mode to Overlay or Soft Light and change opacity. For the sunset area of this image, I changed the Blend Mode to Overlay, which creates a stronger contrast effect. But I lowered the opacity of this layer to 30%. You'll instantly see stronger colors coming from the sunset.
Mask out any areas that you don't want to affect. In this image, I accidentally went over the sticks, so I created a black foreground color and just masked that area of the adjustment out.
Now do the same to enhance the pinks (selecting a pink foreground color), this time painting around the sunset and in the sky and water. I used do the Soft Light Blend Mode and an opacity of 25% on this layer.
3. Sky Replacement Using a Gradient Mask
Whether we want to extend the dynamic range of light of our image, or replace the sky with a completely different sky, using a gradient mask can allow us to make a very natural transition between the layers we are blending.
In the image below, I blended two exposures; one for the sky and blown out parts of the water, and one for the foreground sticks and sand. This allowed me to create a balanced image with a greater range of light.